Saving Time & Money by using a Stay Pal
Welcome to our store, this product was initially designed for convenience and safety. We have come to realize that this tool is effective. and efficient on new builds, as well as renovations. Feel free to look at our Gallery or Videos.
Not Just Another Tool in Your Bag
StayPal - Electrical Staple Setter
In the electrical field, electricians encounter injuries while installing electrical staples. Some staples are awkward to hit with a hammer, or just out of reach with your bare hand when stapling electrical wire.
The StayPal is a tool used to aid in the installation of electrical staples by extending reach, and removing any chance of hitting your fingers while installing staples to prevent injury on the job. The StayPal is also capable of removing electrical staples, making your job easier, and saving time on the job.

Designed and Engineered with your needs in mind.
Our product(s) are intended to: Save Time, Save Money, and Save you from injury.
STAYPAL: CDN & USA TOOLS
The StayPal was designed by electricians, for electricians.
We have product in stock, order your StayPal today.
Demonstration Video
Install and Remove electrical cable staples the best way using the Staypal
How To Use
All Currency is in USD Funds
If you wish to find the current Canadian currency, use the converter at the top right of this page, and choose the Canadian Flag.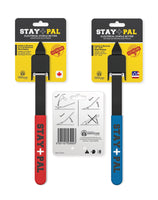 FREE SHIPPING on all orders over $25.00 USD!!! (Free shipping on Sticker only orders)